Ohio Revised Code section 955.01 requires every dog three months of age and older to be registered. One thing to consider prior to purchasing a license for your dog is whether you need to purchase a regular dog license or you need to purchase a kennel license.
A regular dog license applies to dogs not used for the purpose of breeding.
A kennel license applies to individuals who breed their dogs and sell the puppies. You can see the definition of a kennel under Ohio Revised Code Section 955.02.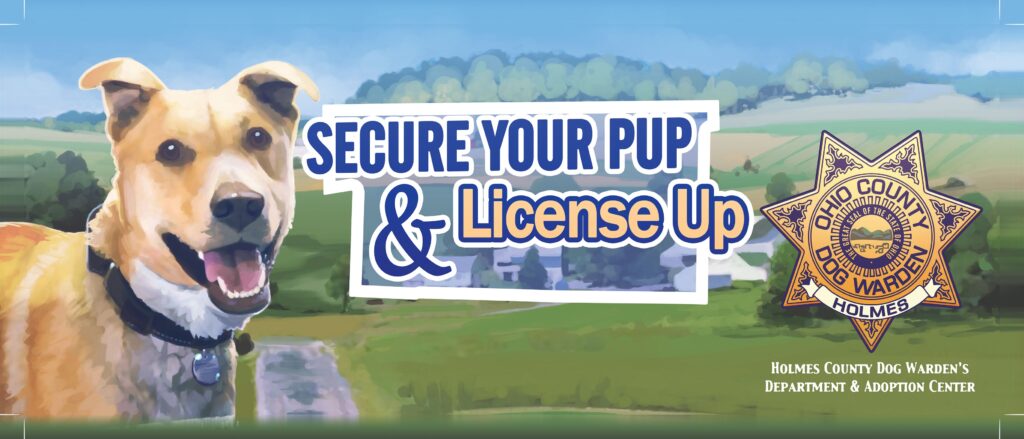 Regular Dog License
These tags can be purchased online via the Holmes County Auditors website, in person at both the Holmes County Auditor's Office or the Dog Warden's Office. During the months of December and January the $15.00 regular dog license can also be purchased at any of our satellite locations. For a full list of our satellite locations see our list of satellite locations.
Regular tag: $17.00 a late fee of $17.00 will be applied if the dog's license is not renewed by January 31.
Puppy Tag (3 months of age after July 1) $8.50
Three Year Tag: $51.00
Life Time Tag $170.00
Once you become the owner of a dog you have 30 days to make sure your new dog gets registered.
Kennel License
A kennel license can only be purchased at the Holmes County Auditor's Office and or the Holmes County Dog Warden's Department. This license is only for breeders who are not a registered high volume kennel with the Ohio Department of Agriculture. Not sure if you are a high volume kennel? Here is what the state of Ohio defines a high volume kennel as click here. Please not that if your selling your puppies retail you will also need to purchase a vendors license and if you are selling your puppies whole sale you will need to purchase a brokers license with the Ohio Department of Agriculture. For additional information on kennel requirements please see our Breeder Resource Page.
Cost $85.00 and comes with 5 tags. Additional tags cost $1.00
A late fee of $85.00 will be applied if a kennel license is not renewed prior to January 31.
Each dog in your kennel will need to have a tag.
Ex: If you have 6 dogs and you register as a kennel you would be charged $86.00 .
Please note if you do not have 5 dogs you will have extra tags on hand.