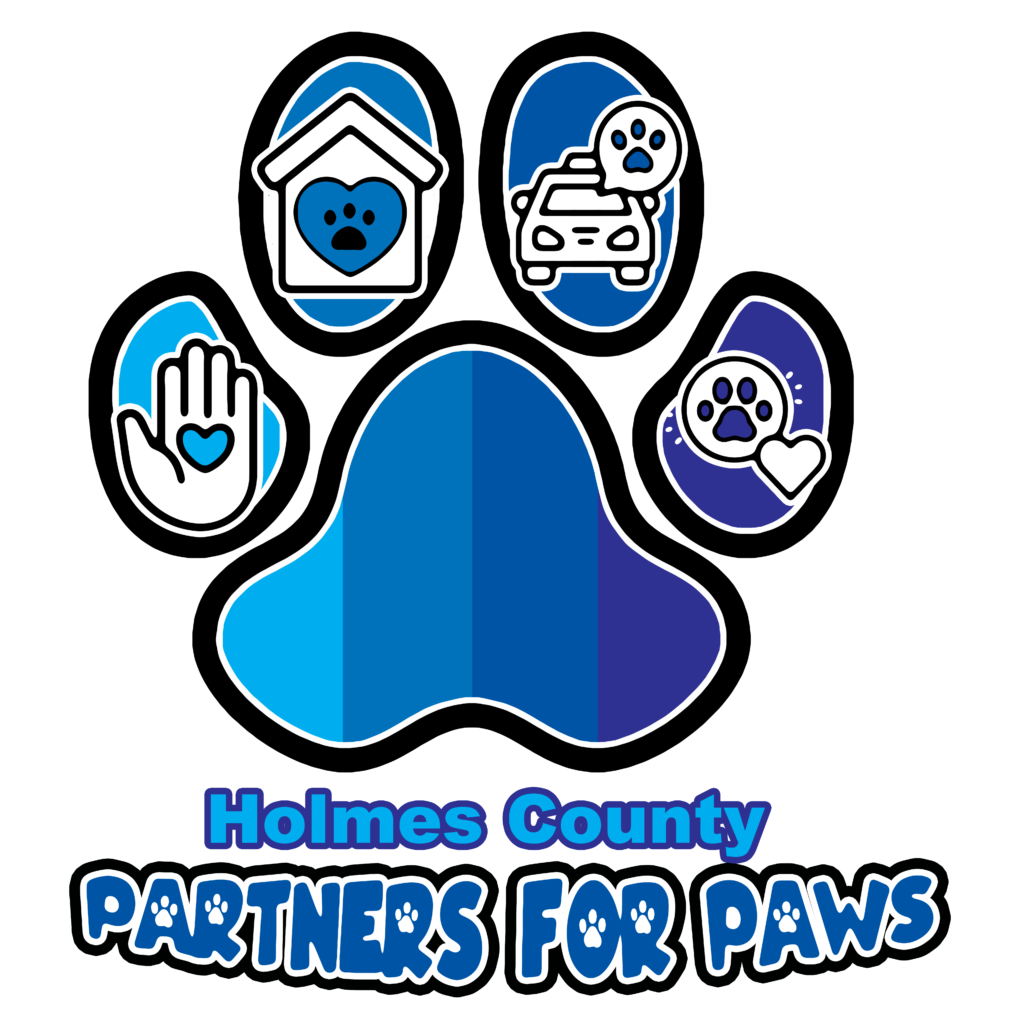 Want to make a difference for homeless dogs in Holmes County? Feel like being part of the shelter network and community? We are now offering other ways that you can help and become a part of our Partners for Paws Community Program.
The idea behind this program is to bring members of the community together to focus on a shared mission with the shelter to provide wonderful and comfortable care to homeless dogs while focusing intently on securing a future for our shelter dogs by finding homes for them.
The following ways are ways that you can become a part of the program.
Volunteer
Volunteers are so important to our shelter as staff does not always have time to get the dogs out and focus on getting them active and providing stimulation. Volunteers come in a walk dogs, spend time with them in our play yards or adoption room, they work on basic obedience training, and after 50 hours they are able to assist staff at off site adoption events. In 2022 volunteers logged over 900 hours!! For more information check out our volunteer page.
Foster a Dog
This is a huge step for our shelter as we have not had a foster program in the past. Becoming a foster home is open to any Holmes County resident that would like to open their home to house a dog temporarily while the shelter looks for a more permanent home. It's not rocket science that a home environment is better for socialization of a dog than the shelter. We are excited to add this program. If you are interested in becoming a foster program please complete the application below.
Transport
In 2022 the shelter had 370 live releases and some of those releases had to be transported to other life saving groups called rescues. Sometimes it takes a week or more to arrange transport. A transport is an individual who volunteers to transport dogs for the shelter from point A to Point B. If you are interested in becoming a Transport for the Holmes County Dog Warden's Department fill out the application below.
To be a Volunteer, Foster, or Transporter please fill out the information below!
Business Promoter
A business promoter includes a business who does any of the following…
Sponsors at least 3 different adoptions fees for the year. Adoption sponsors cost $35.00 each.
Any business who displays the Partners for Paws adoption promotion sign below in their business at a highly visible area. This sign promotes adoptions from the shelter and has a direct link to the shelter's adoptable dogs. Businesses will be able to order widow decals, and or small stand up picture signs for counter tops.
Any business who donates time and or resources to the shelter. Such as but not limited to fundraisers, grooming, vet care, products for the dogs and or adopters.
IF you would like to become a business promoter please fill in the information below! We hope to hear from you soon!
Together we can make a difference in our community!