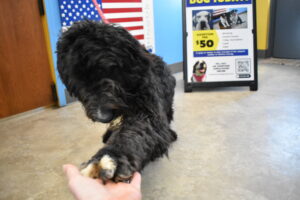 Volunteer Dog Walking Program
Program Goal
To involve the community in caring for the dogs at our facility by allowing them to provide the dogs with exercise and stimulating activities to enhance their chances of being adopted and improve their overall health while at our facility.
Volunteers
Volunteers must be 16 years of age or older. Anyone under the age of 18 must be accompanied by a parent or legal guardian. You can volunteer any day of the week except for Sunday. Each day has a morning session and an afternoon session except for Saturdays. On Saturdays there will only be a morning session.  Volunteering must be scheduled in advance. You can contact the Holmes County Dog Warden's Department at 330-674-6301 to schedule. In order to volunteer you must attend volunteer orientation.
Call Deputy Dog Warden: Michael DeWitt our Volunteer Coordinator at 330-674-6301 to see when the HCDW will host it's next volunteer orientation.
Volunteer Tasks
Walk dogs
Monitor dogs in play yard
Work on obedience training
Spend time in the adoption room with dogs
Document good and bad behaviors
"Since it's beginning in February of 2019 volunteers have spent hundreds of hours walking dogs and the impact of this is observed on a daily bases in the health and behavior of the shelter dogs"

Dog Warden Jonathan Beam